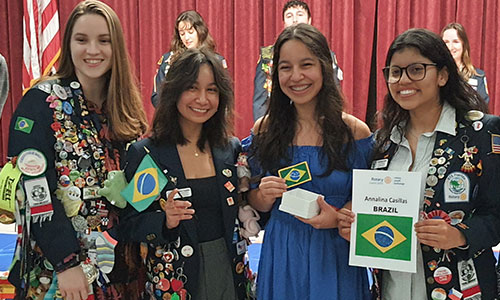 Outbound Orientation #2 May 19-21, 2023
For students in District  6970
LOCATION:  
Montgomery Camp & Conference Center
88 SE 75th Street
Starke, FL 32091
Montgomery Center
Directions:Google Maps
TIMES:
ARRIVAL:  FRIDAY MAY 19: OB Students between 4:30-5:00pm
PARENT ORIENTATION/ GRADUATION: SUNDAY, MAY 21, 9:00am-2:00pm at location above
DEPARTURE: SUNDAY MAY 21: OB Students & Parents depart at 2pm following Graduation
NOTES!
Please bring your personal toiletries, shower shoes & any other items you need for the weekend
Pack a pillow, blanket, bath towels, flash light, bug spray, sun screen. We are working to confirm bed linens & will know tomorrow. You MAY need to bring sheets/ sleeping bag – More info to follow.
Bring a refillable water bottle
Bring your Completed Goal Sheet, Outbound Handbook, Language Book, Presentation,  notebook with pen/pencils for notes.
Students will be assigned to Cabins with Rotex Chaperones in each cabin.
Meals are provided. (Friday Dinner only, Sat Breakfast/Lunch/ Dinner, Sunday Breakfast/ Lunch). If you want any other snacks, please bring with you.
Dress for the weekend is casual.
Not permitted on property: No Pets, No Drugs or weapons, No Smoking.